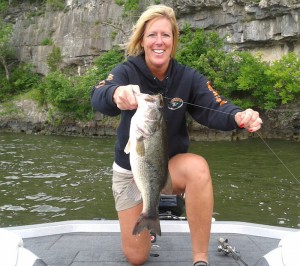 Having bass fishing success on the Lake lately? Thank Ameren, Jim Dill says.
Dill, a local fishing guide, explains that the high volume of water currently moving through Bagnell Dam has created a good current in the Lake, and has made the fishing superb.
But, as always, some places are better than others, and Dill has a few particular spots on his radar.
"The bass really stack up, off of main lake points that drop off into the main channel," he begins. Those fish are catchable by dragging a 3/4-oz or 1-oz Crock-o-Gator football jig along points and ledges, in 18–25 feet of water. A deep-diving crank bait will also work well in those areas.
Other fish are hanging around 20-foot-deep brush piles, and can be caught on a 10-inch power worm.
And for the extremely dedicated or insomniac anglers, the fishing is good at night around shallower brush piles, between 8–12 feet deep.
Water color is stained or dirty from the 30MM out, moving away from the dam, but closer to the dam it gets a bit clearer.
The water temperature is hovering around 78 degrees.
© 2013 lakeexpo.com. All rights reserved. This material may not be published, broadcast, rewritten or redistributed.